Get the highest level of care and treatment from exceptionally skilled liver transplant doctors and surgeons at University Health Transplant Institute.
Do You Need a Liver Transplant?
A working liver is essential. You cannot live without it. You may need a transplant because your liver doesn't work well because of liver damage from cirrhosis, hepatitis B or C, liver cancer or another disease. Ease your fears if you have liver disease because liver transplant can treat end-stage liver disease (chronic liver failure).
Liver Health
Visit the liver health section of our website to learn more about your liver and the conditions that affect it. Depend on us for complete liver care for liver diseases, cancerous tumors and noncancerous tumors at the Texas Liver Tumor Center at University Health.
Why Choose University Health?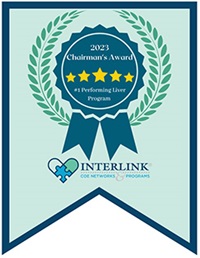 We are the No. 1 liver transplant program in the U.S. We earned the 2023 Chairman's Award from Interlink.
Benefit from distinctive care, efficient processes and compassionate support and services. You'll appreciate:
Bilingual staff and translators to make sure you are informed and understood throughout the transplant process
Centrally located Transplant Institute services in San Antonio's medical center area
Dedicated, vital transplant research and innovation programs allowing you access to the most advanced, up-to-date treatment options, techniques and medications
Easy-access transplant outreach clinics in South Texas cities, such as Austin, Corpus Christi, New Braunfels, Laredo and El Paso
Excellence and quality designations and recognitions for transplant services
Financial counselors to help you understand your costs for a transplant and interpret your insurance benefits
High success and survival rates for liver transplant―Our outcomes are the best in Texas and exceed national expectations, according to the Scientific Registry of Transplant Recipients
Knowledgeable, experienced transplant doctors with medical expertise in their field and surgeons who have performed more than 1,885 liver transplants
Pre- and post-transplant patient education, resources and support services
Second-highest number of living-donor liver transplants in the U.S. in 2019
The only program in South and Central Texas to offer living-donor liver transplants. It is a streamlined approach to living liver donation that helps you get a transplant quicker.
How to Get Transplant Care
When your liver specialist (gastroenterologist or hepatologist) recommends transplantation as a treatment option, look to University Health for the care you need. If you match the patient criteria for a transplant, your doctor can start the referral process. You also can make an appointment without a doctor's referral.
Evaluation Process
Learn if you are eligible for liver transplantation at University Health through an evaluation. Plan for:
Transplant Process
If you are a candidate and transplantation is your best treatment option, you'll:
Types of Liver Donors
Your liver is the only organ in the body that can regenerate (grow back). That means you may opt to receive a liver from a living person who wants to donate a small part of their liver. Rely on us to perform the following types of liver transplants:
Deceased donor – Your new liver comes from a deceased donor as it becomes available through the national computerized waiting list known as United Network for Organ Sharing (UNOS).
Living donor – Your new liver comes from a living donor, such as a family member, close friend or someone you do not know.