Parking at University Hospital
At University Hospital, paid parking is available in the West Parking Garage. For extended inpatient stays, families and visitors may buy a $10 parking pass that can be used for up to 10 exits from the parking areas.
Please note, construction is currently underway for our new Women's and Children's Hospital, so the West Garage is the only parking facility for patients and visitors. Many hospital staff members are also parking in the West Garage. Navigate around the hospital by using our mobile app or ask any staff member if you need wayfinding assistance.
Parking Tips
Here are some helpful tips:
Please plan to arrive early for your appointment as it may take you some time to find a spot and make your way to your location.
You can enter the West Garage from Medical Drive, Wurzbach and Merton Minter.
Remember where you parked by using the "Save Parking Spot" feature on our mobile app.
A free shuttle is available to take patients and visitors directly from the garage on Level B1. Shuttles operate 24/7 and come by every 10-15 minutes.
Parking at Other University Health Locations
Free parking is available at all University Health outpatient locations.
Frequently Asked Questions
Where can we park if we are visitors/patients?
Visitors may park on any level of the garage. Please remember where you parked, take your parking ticket with you and look for signs directing you to the shuttle stop.
Where do staff park?
Staff members assigned to the garage may park on any level. Staff members assigned to a remote lot can pick any space in their assigned lot. Staff members assigned to a remote lot do not have access to the garage.
Are there different shuttles for each lot? How do we know which one to get on?
Visitors should use the shuttle labeled "Garage." Shuttle drivers are also happy to verify the location with you to ensure you get on the right shuttle bus.
How often do the shuttles run?
The Garage shuttles are available every 5-7 minutes. The shuttles to the Garage run 24 hours a day, seven days a week.
Remote parking lots for staff have shuttle service every 5-7 minutes. Shuttles are only available Monday-Friday from 6:30 a.m.-7 p.m. for staff parking at these locations.
What should I do if I have a problem or question?
Parking: Please call 210-428-0051 to report equipment issues or to request a refund or validation.
Shuttles: Please report any issues with the shuttle service to 210-358-2450.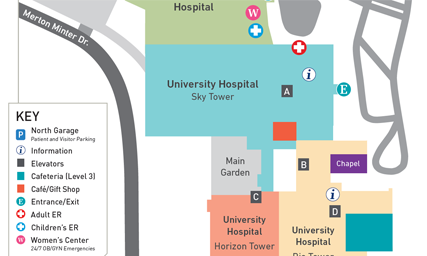 University Hospital Campus Map
Download our parking map to see the location of the West Garage as well as other changes due to the construction.