What Is the EKSO® Exoskeleton?
University Health was one of the first rehabilitation centers in San Antonio to acquire the EKSO® Exoskeleton. The EKSO® exoskeleton is a wearable medical device that helps you stand and walk if you've had a spinal cord injury, stroke, or neurological damage. The exoskeleton has adjustable, battery-powered motors that drive the legs and help you walk.
You might benefit from the exoskeleton if you have had any of these conditions: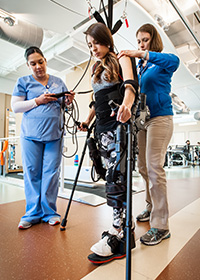 What to Expect
Before you can start using the exoskeleton during your therapy sessions, your physical therapist will assess you to be sure that you are a good candidate. They will also determine your level of spasticity.
If you are approved to use the exoskeleton, your therapist will adjust it to the proper size for your session. Your sessions are always one-on-one so you get the attention you deserve.
The exoskeleton can be used alone or with a harness attached to the ceiling. The purpose of the harness is to relieve some of your weight so you can move easier, if needed.
The exoskeleton will help you stand up and walk after a spinal cord injury or other trauma to those nerves. Before the exoskeleton, it might have taken two or three physical therapists to hold you steady while you walk. But now, this advanced medical device can allow you to walk sooner on your own.
The exoskeleton is used in addition to other physical therapy methods, like strength and functional training.
Depending on your goals and needs, your physical therapist will provide a custom timeline of how long to use the exoskeleton.
Benefits of the EKSO® Exoskeleton
The EKSO Exoskeleton can help speed up the process of relearning how to use your legs after an injury.
Other benefits include:
Aligning your posture while you walk
Getting you out of physical therapy sooner
Significantly improves walking speed
Teaching your brain and muscles simultaneously
Your clinician can control how much assistance the device gives each leg, depending on your feedback and therapy progress
The exoskeleton is available at no additional cost if your therapy is approved by your insurance.