Driving Assessment Therapy
Driving Assessment Service
Driving is a critical part of being independent and staying connected, especially in large cities like San Antonio. But if you've experienced changes in physical or cognitive abilities, driving might be a challenge.
Occupational therapists at University Health can provide you with comprehensive testing and information to assist with making decisions about driving safety. Additional recommendations from the testing can include modifications to your driving habits and the use of adaptive equipment to improve your control.
Our occupational therapists can provide objective, dependable information to address physical, cognitive or environmental barriers that can make driving a challenge.
Areas we evaluate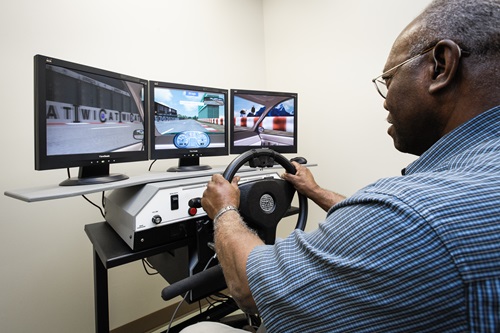 Complex problem solving
Decision making
Physical restrictions that may limit driving
Processing speed
Reaction times
Ask for a referral
The process begins with a referral from your physician and is completed with a written report detailing recommendations. The completed report from the driving assessment is shared with your referring physician and others as needed. We network with state-certified driving schools to recommend an on-the-road test if needed.