Exemplary Professional Practice
Trauma is the leading cause of death in individuals under the age of 45. With the increasing need for specialized care, University Health Trauma Services has created a comprehensive educational program focused on trauma nursing care. A group of trauma leaders at University Health envisioned the innovative program, which provides nurses with the tools to cross interdisciplinary boundaries, similar to the experience of trauma patients. Doing so not only increases the knowledge and skills of the trauma nurse, but also provides a holistic approach to patient care. The Trauma Nurse Fellowship Program was implemented in August 2014.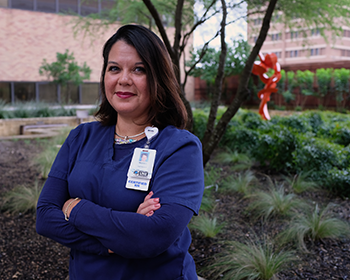 The six-month fellowship immerses the nurse into the full continuum of care of the trauma patient, from the point of injury through outpatient follow up. The program is designed with two weeks of didactics to include simulation skills and four weeks of clinical performance rotations with EMS, AirLife, the Operating Room, Trauma Resuscitation Unit, Surgical Trauma Intensive Care Unit, Pediatric Intensive Care Unit and Trauma Administration.
During these clinical rotations, each fellow is paired with preceptors. These preceptors are specialists in their field. The experience in these essential clinical areas strengthens the nurses' clinical performance and provides multiplicity in the settings in which the trauma nursing fellow will practice.
Understanding the collaboration of the various disciplines involved in the care of the trauma patient allows for a broader understanding of nursing interventions and how the role of the nurse affects patient outcomes from a systems view. Exposure to organizations such as the Southwest Texas Regional Advisory Council and Texas Trauma Coordinators Forum provides a view of the trauma system at a regional and state level.
Every six months, the program accepts up to four applicants. Fellows receive paid training and an educational stipend. The fellows also make a commitment to use the knowledge gained in a trauma-related service area. Candidates come from emergency departments and intensive care units because critical care experience is a requirement.
The Trauma Nurse Fellowship Program began accepting applications from outside University Health in 2016, which made the fellowship an avenue for nursing recruitment. Fifteen nurses have graduated since the launch of the fellowship program. All 15 remain connected to University Health. Alumni stay active with the fellowship program as mentors for future fellows.
For information about the University Health Trauma Nurse Fellowship Program, please contact TraumaNurseFellowship@uhtx.com.
The Southeast Asia Pediatric Hematology Oncology (SEAPHO) Vietnam Project is a collaboration of health care organizations working to improve the childhood cancer survival rates in Southeast Asia. The aims of this project include providing educational training programs for pediatric oncology nurses in Vietnam, promoting the specialty of pediatric oncology nursing, advocating and implementing nursing standards, creating evidence-based policies and procedures, exploring nursing research opportunities and providing patient and family-centered education.
Vietnam was identified for the project because of its challenges with the number of children who have a heavy burden of diseases, overwhelmed staff infrastructure, lack of clinical data and research, and the misconception of "hopeless terminal illness" in reference to childhood cancer.
University Health pediatric oncology nurses Veronica Flores, Christine Muñoz and Xochitl Castaneda were chosen to participate in the project to assist with training pediatric oncology nurses in Vietnam. University Health support included encouraging nurses to apply to participate in this global population health outreach initiative, travel expenses and meals, flexible scheduling and maintaining status on payroll. University Health was also able to provide them with supplies and necessary tools and information.
The SEAPHO nursing mission focuses on the development of a professional, competent and skilled pediatric oncology nursing workforce in Southeast Asia with mission plans to provide the best nursing care possible for children with cancer and blood disorders and their families.
In June 18, the nurses traveled with the SEAPHO team to Vietnam. During their week-long trip, they provided training to develop nursing knowledge and core competency skills of the pediatric oncology nurses through didactic presentations and interactive learning activities for nurses in hospital hematology and oncology units. The training included peripheral IV insertion via ultrasound, CLABSI reduction techniques, central line care, PICC insertion and removal, infection control measures, administration of chemotherapy, palliative care and pain management.
The volunteer efforts of Veronica, Christine and Xochitl exemplify the true spirit of nursing. Their willingness to share their knowledge with nurses in emerging areas of the world is admirable and aligns with the University Health commitment to support the health of this community and beyond.
These nurses, with the support of University Health, are helping to improve the quality of care available to children suffering from cancer throughout the world.
The University Health Nurse Residency Program (NRP), in partnership with Vizient, was awarded Accreditation as a Practice Transition Program with Distinction, the highest recognition awarded by the American Nurses Credentialing Center's Accreditation Program.
The one-year program benefits new graduates who are employed as staff nurses on clinical units and in ambulatory settings. Using Patricia Benner's theoretical framework of From Novice to Expert: Excellence and Power in Clinical Practice, the program consists of monthly sessions for the first year of practice to support new nurse graduates as they transition into their first professional nursing role.
Outcome data demonstrates that the residents develop improved confidence, competence, communication skills and leadership capacity, as well as a decrease in their stress levels. Residency sessions and facilitator support assist the new nurse in acquiring the professional practice skills necessary to become successful as a full partner of the health care team. Monthly sessions include discussion, simulation, tours and interaction with other University Health departments and personnel.
In 2017-2018, 81 evidence-based practice projects (EBP) were conducted by the nurse residents in Cohorts 10-16. The EBP projects have been implemented on various inpatient units such as an early mobility protocol, a sleep hygiene protocol for ICU patients, appropriate use of microtainers in pediatric blood draws and two-way radios in the emergency department.
Implementing the Nurse Residency Program demonstrates University Health's commitment to the new graduate residents by continually monitoring program outcomes, ensuring content is evidence-based, and revising annually to meet program standards.
University Health's Clinical Excellence Simulation Center has earned Provisional Accreditation by the Society for Simulation in Healthcare (SSH) – the first hospital in South Texas and the second in San Antonio to earn this designation.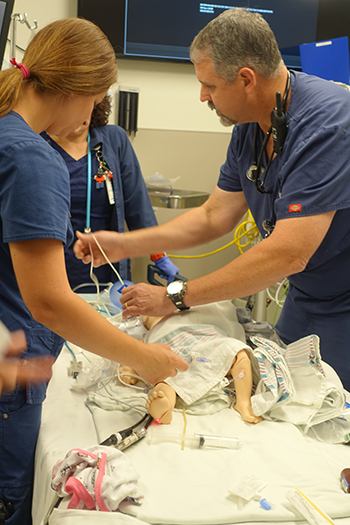 SSH was established in January 2004 to represent the rapidly growing group of educators, research scientists and advocates who utilize a variety of simulation methodologies for education, testing and research in health care.
For purposes of accreditation, a simulation program in health care is defined as an organization or group with dedicated resources (personnel and equipment) whose mission is specifically targeted toward improving patient safety and outcomes through assessment, research, advocacy and education using simulation technologies and methodologies.
In December 2017, the Center for Clinical Excellence Simulation Center began to develop the application for accreditation, and one year later received notice of acquiring Provisional Accreditation in the area of Teaching and Education.
University Health joins 33 provisionally accredited programs from seven countries: Chile, Turkey, Vietnam, United Arab Emirates, Mexico, Saudi Arabia and the United States.