Professional Nursing Practice
University Health strives to create a workplace in which nurses can achieve professional practice. Our goal is to ensure core values, professional collaboration, leadership and excellence are the hallmarks of your work environment. We strive to provide clinical nurses with "voice in their practice" and assurance their voice is heard to improve the care of patients.
Philosophy of nursing states our thoughts on what we believe to be true about the nature of the profession of nursing and provide a basis for nursing activities. It endorses ethical values we hold as basic and bases our beliefs in theory. These values and beliefs are congruent with the University Health's mission, vision and values. To facilitate patient care, we use Helen Erickson's Nursing theory of Modeling and Role Modeling.
Collaborative governance is based on values found within learning organizations and shared-governance. This is an interdisciplinary model that supports patient-centered care. It is founded on the principles of partnership, equity, accountability and ownership of clinical practice. Improvement in patient care is the continual goal that is at the foundation of the collaborative governance.
Learning communities provide engagement, support, and learning for interdisciplinary providers to broaden knowledge and expertise, problem-solve more collaboratively, use research for the improvement of care to their patients and steward knowledge to enhance care delivery.
CABINET (Patient-Centered Collaborative Accountable)
Evidenced-Based Practice and Research (EBP & Research) Coordinating Council
Nursing Quality Coordinating Council
Professional Performance and Growth (PPG) Coordinating Council
Clinical Product Evaluation and Resource Coordinating Council
Nurse Ethics Coordinating Council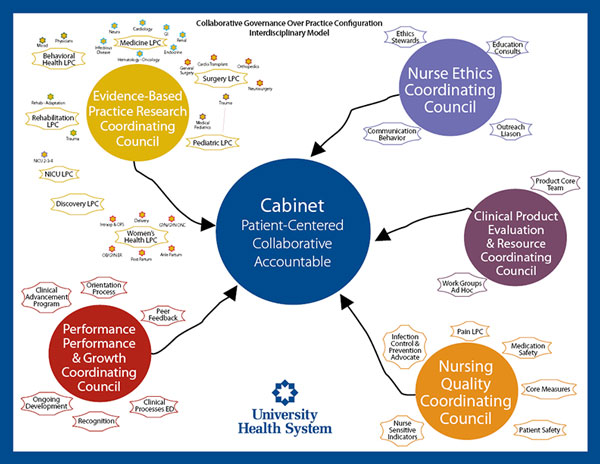 Patients and families are the core focus of our nursing care. The integration of our core values, clinical nurse leadership at the point of care, nursing practice excellence and professional collaboration define our professional role at University Health. Actualization of this professional nursing role is key to the course of events that occur during a patient's journey through our health care institution.