Mobile Mammography in Our healthyUexpress Bus
Taking time out of your busy day to get a mammogram can be challenging, but it's important. To make it convenient, University Health offers mobile mammogram screening services via the healthyUexpress mobile mammography bus. Available to come to your workplace, the healthyUexpress offers potentially lifesaving services in a way that works best for you and your schedule.
The healthyUexpress bus is a part of our continued commitment to help the women of San Antonio and Bexar County access mammograms more easily.
The Benefits of Getting a Mammogram on the healthyUexpress:
It only takes about 30 minutes, including registration time
You get results within 24 hours
Financial assistance may be provided to women with no other health care coverage and to those who qualify for the program
You Are a Candidate for a Mobile Mammogram if You:
Are age 40 or older
Have not had a mammogram within the past 12 months - most insurance companies limit the number of mammograms allowed within a 12-month period
Are not pregnant or breastfeeding
Have no personal history of breast cancer
Have no unusual breast symptoms such as a lump
How to dress and what to expect
Please wear a separate top and bottom and avoid using powder, lotion or perfume. We'll review your basic personal information for identity purposes. Our radiology technician will review your health history and complete your exam. During the exam, the breast is placed between two plates and a digital image is taken.
The mammogram fee will be billed to your insurance company, Medicaid or Medicare. Please bring your insurance card to your appointment. If you're uninsured, we have special programs available for women who meet the eligibility requirements.
What if I need additional evaluation?
Your digital images are read by highly-trained radiologists affiliated with UT Health San Antonio. We make your results available within 24 hours and, with your permission, pass them along to your doctor.
If further evaluation is needed, we can make a follow-up appointment at University Health's Breast Center at the Mays Cancer Center, home to the UT Health MD Anderson Cancer Center, as soon as possible. You can always choose to see your own doctor for an appointment as well.
By scheduling a visit from our healthyUexpress bus, a mobile mammography unit, you can bring the benefits of high-tech digital mammography to your organization. When you take the time to schedule our mobile mammography unit, women at your place of business will have the opportunity to have a mammogram quickly and conveniently.
Request the healthyUexpress mobile bus
It only takes a few minutes to reserve our mobile mammogram vehicle to visit your organization. Our 45-foot long, state-of-the-art healthyUexpress bus comes equipped with the latest digital imaging technology. For the comfort and privacy of our patients, it also includes two private changing rooms.
Your employees, or their spouses, will be given appointments in advance to minimize time away from work. We encourage you as a business leader to give the women on your team an opportunity to receive this quick and easy screening for breast cancer. Early detection saves lives and reserving the healthyUexpress mobile bus is at no cost to your organization.
Contact us to learn more about the healthyUexpress coming to your workplace. Don't wait. Reserve our mobile bus today. Let's work together to keep your employees healthy.
Access to life-saving screening
Up to 25 women can be screened for breast cancer on the healthyUexpress in one day.
We can schedule an additional visit if needed. Typically, we set up by 7 a.m. and begin screening at 8:30 a.m. The last appointment of the day will begin at 3:45 p.m. A minimum of 15 women need to be scheduled per visit. If the bus is available, we can schedule mammogram services on weekends and during alternative hours.
Site and clearance requirements for the mobile mammography bus
The bus requires a flat, level surface of at least 45-feet long including a 20-foot wide clearance or approximately 12 parking spaces. In addition, a height clearance of 13 feet 6 inches is required.
Reaching Bexar County women
We understand women are busy – sometimes too busy to make time for regular checkups and mammograms. But, we also know that early detection provides the best chance to survive breast cancer. We are committed to bringing this life-saving service to our community with the goal of eliminating any transportation or time issues that many women experience. The bus is available for community health fairs, programs, places of worship and events. It can also be scheduled on a recurring basis.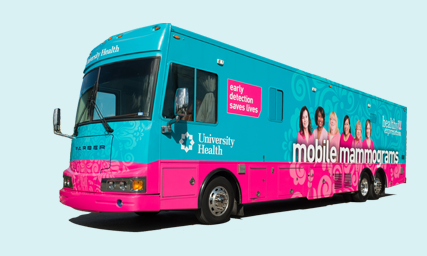 Mobile Mammography Bus
We are currently not accepting appointments at the Mobile Mammography unit. In the meantime, please schedule an appointment at our Robert B. Green Campus or UT Health Mays Cancer Center by calling
210-358-2725.