Award-Winning Stroke Care
University Hospital is certified as a comprehensive stroke center by The Joint Commission and the American Heart Association/American Stroke Association.
Comprehensive stroke centers are capable of diagnosing and treating the most complex stroke patients with a wider array of technology and procedures. With our physician partners at UT Health San Antonio, expert care is available rapidly and around the clock when you have symptoms of stroke.
Lifesaving Stroke Care
Seconds count when a stroke hits. That's why our rapid response stroke team goes into action the minute you arrive at our emergency department. Our multidisciplinary team of experts specializes in stroke care.
You can count on the San Antonio area's best-trained and most experienced neurologists, nurses, radiologists, pharmacists, therapists (physical, occupational and speech) and interventional neurological radiologist to provide the highest level of stroke care possible.
Our team's recognitions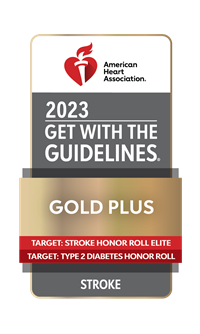 University Hospital rates for using tPA are above the national average, which means more people have been able to take advantage of this time-sensitive treatment.
Our team meets or exceeds all American Heart Association/American Stroke Association national time standards for lifesaving treatment, including door to tPA, CT, lab, EKG (electrocardiogram) and chest X-ray.
Our team received the 2023 Gold Plus, Target: Stroke Honor Roll Elite, Target: Type 2 Diabetes Honor Roll as part of the American Heart Association/American Stroke Association's Get With the Guidelines® Stroke program.
We're South Texas' first Magnet hospital, a designation that means University Health nurses and staff are the gold standard when it comes to providing quality care.
Comprehensive Stroke Care Means Better Outcomes
Throughout your stroke treatment, rehabilitation and recovery, our stroke team takes advantage of the latest advancements in stroke care. From inpatient acute care, where rehabilitation starts, to inpatient and outpatient rehabilitation, our focus is on helping you return to the fullest life possible.
Comprehensive Stroke Center: An Award-Winning Place of Healing
University Hospital is home to San Antonio's most comprehensive stroke treatment. Our designation as a comprehensive stroke center means we're equipped with a level of readiness, expertise and technology that goes unmatched. You have 24/7 access to the most advanced, immediate care you need when you have symptoms of stroke.
From the moment you step through our doors, our stroke center provides a higher level of care, commitment and compassion, thanks to:
San Antonio's largest emergency department
State-of-the-art Level l trauma center for adults and children
Around-the-clock intensive care in our specialized neurocritical care unit
A designated stroke unit in the hospital's Sky Tower
Large, comfortable private rooms
35 state-of-the-art surgical suites for faster access to lifesaving treatment
Healing gardens
Our stroke center is where you'll find expertise and results combined with a spirit of healing and hope.