Pay My CareLink Bill
Paying Your CareLink Bill Is Easy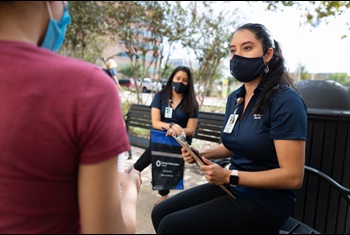 Pay by Phone
Call 210-358-3353 to pay your bill using a debit or credit card.
CareLink call center hours:
Monday – Thursday: 8 a.m. – 4 p.m.
Friday: 9 a.m. – 4 p.m.
Closed daily: 12:15 p.m. – 1 p.m.
Pay in Person
Pay your bill at any University Health cashier. For locations, call CareLink Member Services at 210-358-3350.
Pay by Mail
Mail your payment using the pre-addressed return envelope provided with your CareLink statement. Send the payment to:
CareLink
P.O. Box 734808
Dallas, TX 75373-4808
Pay Online
Make a payment toward your CareLink bill by debit or credit card through myBillPay.
Important: Enter the account number from your CareLink statement and the last name of the subscriber/responsible party. If the information entered does not match our records, you will be unable to process an online payment.
Questions?
For CareLink billing questions, contact CareLink at 210-358-3350 or CareLinkAccountServices@uhtx.com.
Other University Health online bill payment services:
For University Health billing questions, contact Billing Services at 210-358-9500.
Sign Up for MyChart
You can pay your hospital and UMA bills using MyChart. Through MyChart, you can also make appointments, manage your health records, view lab results and more.