The Region's Level I Trauma Center
University Hospital is the only hospital in San Antonio and South Texas verified by the American College of Surgeons as both a Level I trauma center and a Level I pediatric trauma center.
From car crashes to severe burns, we have specialists in every trauma-related field ready to treat seriously injured children and adults every day 24/7.
Committed to Injury Care and Injury Prevention
At University Hospital, our mission is to treat serious injury in our facilities and prevent injury in our community. Our physicians, surgeons and nurses are in-house all day, every day, saving the lives of our friends and neighbors across the 22-county region.
SkyCare Air Medical Transport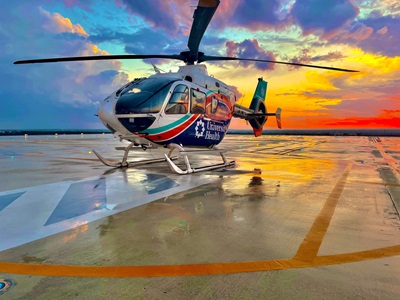 When a critically ill or injured woman, infant or child needs transport from another South Texas hospital, we use our SkyCare helicopter.
One of our three highly skilled transport teams – maternity, pediatrics and neonatal care – will leave from University Hospital aboard SkyCare to pick up the patient and ensure safe transport back to the Women's & Children's Hospital.
Designations
To earn Level I trauma designation, University Hospital has demonstrated an expertise and commitment to treating and preventing injuries. Our providers conduct research aimed at finding new and better treatments, and educate the next generation of trauma specialists.
There are currently 18 Level I trauma centers in all of Texas. University Hospital is one of only five Level I pediatric trauma centers in Texas.
Save a Life – Stop the Bleed
Because we never know when a trauma will strike, we want to give our patients every opportunity to have the best chance at survival and a full recovery. Someone bleeding from a life-threatening event can die from blood loss within five minutes. The actions of those nearby can make all the difference immediately following a major injury.
As part of a national campaign, University Health offers free Stop the Bleed classes so you'll know how to help keep someone alive before EMS arrives on the scene. The classes are specifically designed for people with no medical training.