Family Nurture Care in the NICU
While NICU babies need the medical support of nurses and doctors, we recognize that the most important people to baby are mom and dad. You are the most important person in your baby's world.
We are committed to supporting you as you develop a strong emotional connection with your baby through Family Nurture Care in the NICU. University Health is the only hospital in Texas to offer this comprehensive relational health program at no cost to families.
If you have a baby in the NICU, you may have questions like:
Can I touch my baby or hold my baby?
How can I connect with my baby while they're in the NICU?
How will I bond with my baby?
Family Nurture Care at University Health is designed to answer these and other questions and help you connect emotionally with your new baby. Recent studies show that hospitals that provide special mother-baby support in the NICU help your baby heal and develop more normally.
Emotional Connection and Baby's Growth & Development
Medical separation of babies from their parents is difficult for the whole family. The natural, nurturing interactions between a new mom and baby are interrupted in the early days of life, and that can be hard for you and your baby. But your relationship and emotional connection with your baby is essential for your and your baby's wellbeing.
Family Nurture Care recognizes the importance of that relationship as part of your baby's healthy growth and development. Our trained bedside nurses and Nurture Specialists can help you strengthen your relationship with your child through Family Nurture Care's "calming cycles."
Calming cycles are guided sensory activities coupled with emotional expression that make your nervous systems work together to calm each other. You calm your baby and baby calms you, too. You heal each other. The more times you experience calming cycles, the stronger your connection becomes. This buffers the stress of the NICU for you and for baby. By decreasing your baby's stress, your baby's brain development can improve.
How Can I Bond with My Baby in the NICU?
In Family Nurture Care, a Nurture Specialist will create a safe, supportive environment for you to interact with your baby through sensory activities such as:
Exchanging clothes with each other's scents throughout the NICU stay
Practicing eye contact at every opportunity
Touching from the earliest days in the NICU
Holding your baby as soon as it is medically possible
Singing, talking and reading to your baby
Emotional expression – A Nurture Specialist can get you started with this most important element of the calming cycle, or you can start by telling your baby your birth story and what it meant to you (it's OK if it's hard)
Family Nurture Care in the NICU Helps Mom and Baby
Family Nurture Care has been shown to improve social relatedness, attention and neurodevelopment in preterm infants. Learn more about how it improves brain development, by reading Family Nurture Intervention trial findings.
Studies have found that Family Nurture Intervention:
Family Nurture Care at University Health
If you are a current NICU parent and would like to speak to a Nurture Specialist, ask your nurse to schedule an appointment for you. If you would like more information about Family Nurture Care at University Health, please contact Umber Darilek or Dr. Alice Gong.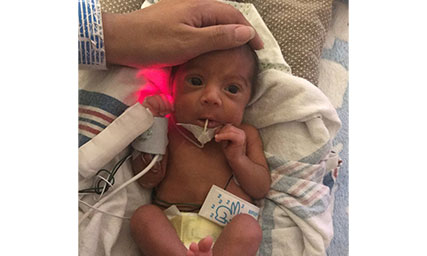 Mother visits University Hospital NICU where son's life was saved 5 years ago | KSAT
Science-backed Family Nurture Care Program at University Hospital is one of only two in the nation. The program works with moms and dads who have babies in the NICU to help them bond with their infants. Research shows that these sensory activities increase brain activity and early brain development in preterm infants and decrease depression and anxiety in both moms and babies.