Pediatric Diabetes, Growth & Hormones
The Children's Center at Texas Diabetes Institute (TDI) specializes in treating childhood diabetes. Our pediatric endocrinologists also treat obesity-related complications, hormone disorders and endocrine cancer.
Leading Pediatric Diabetes & Endocrinology Care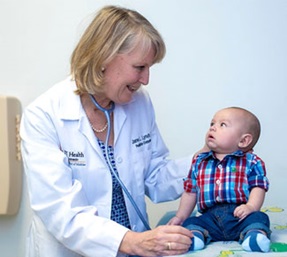 TDI offers complete care for pediatric diabetes and endocrinology. TDI has a long history of being at the forefront of diabetes care in San Antonio and nationally. Our team includes certified diabetes educators, dieticians, nurses and social work. We help children and their families maintain control of their diabetes and teach diabetes self-management skills.
Cystic Fibrosis Related Diabetes
We are also an accredited Cystic Fibrosis Center for Excellence. This means we can provide unparalleled care for children with cystic fibrosis-related diabetes.
Pediatric Endocrinology Care
Our pediatric endocrinologists specialize in conditions related to the endocrine system. The endocrine system controls your metabolism, growth and development using hormones.
The pediatric specialists at University Health are some of the best in the nation. We also treat rare endocrine tumors, thyroid cancer and cancer survivors with hormonal issues.
About the Texas Diabetes Institute
TDI is the premier diabetes care and treatment center in South Texas. Located in the heart of San Antonio, it is in a prime location to serve the communities who most need it.
Amenities at TDI include:
Research laboratories
Clinic for each specialty
Pharmacy
Auditorium
Fitness center
Café
Chapel
Demonstration kitchen
Community garden
If you have any questions, please call 210-358-7551. The physician referral fax number is 210-702-4228.
If you are an existing patient, you can call NurseLink at 210-358-3000 on nights and weekends and ask for Pediatric Endocrinology for urgent concerns.