Pediatric Trauma & Burn Center
South Texas' Only Level I Pediatric Trauma Center
Level I Pediatric Trauma Center
University Health operates the only American College of Surgeons-verified Level I pediatric trauma center in South Texas. This designation, along with our Level I adult trauma center, allows us to treat the most seriously injured children and their parents when the family is involved in a car crash or traumatic event.
A Better Chance of Survival
Survival rates increase by 25% when children receive care at a pediatric trauma center due to its full range of specialists and advanced technology. Our facilities have the appropriate resuscitation equipment, pediatric imaging and diagnostic procedures to treat your child.
SkyCare Air Medical Transport
When a critically ill or injured infant or child needs transport from another South Texas hospital, we use our SkyCare helicopter.
One of our highly skilled transport teams – pediatrics or neonatal care – will leave from University Hospital aboard SkyCare to pick up the patient and ensure safe transport back to the Women's & Children's Hospital.
Pediatric Burn Center
Families bring their children from all over Texas to get the specialty care our pediatric burn program provides. Our medical experts can restore maximum level of movement and develop an individual treatment plan to make the most of your child's healing and recovery.
What to Expect
When you arrive at University Hospital, we quickly assess major injuries and work with medical experts to give your child the best chance for recovery.
The children we treat have the benefit of a team of doctors and nurses who communicate and work closely with one another – all toward the goal of improving your child's condition.
The flow chart below shows what you can expect when you come through our doors.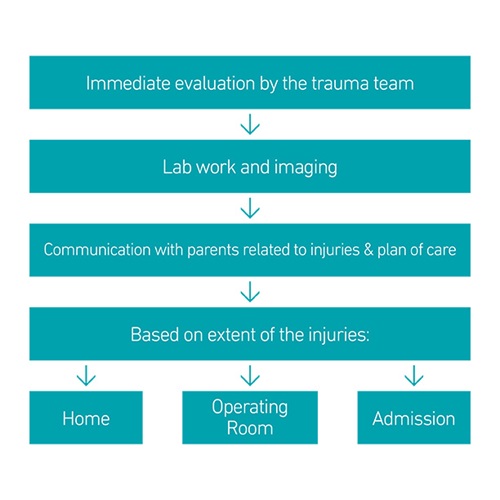 Make an Impact
Consider donating to the University Health Foundation in San Antonio.
We rely on community support and philanthropy for several programs that help with the prevention or treatment of injuries to children including:
Trauma & Burn Children's Fund
Injury Prevention Fund
Child Life Fund
Anderson Perez's Story
Ten years after severely burning his foot at a family outing, Anderson Perez returned to University Hospital to thank the pediatric trauma burn team that took care of him. Andrew, almost 13, brought roses for Dr. Lillian Liao, his surgeon, and toys for other injured children. Anderson remembers clinging to a stuffed animal, a camel, the burn team gave him as he was taken into surgery. It comforted him, and he still has it today.