University Health receives national award for treating stroke patients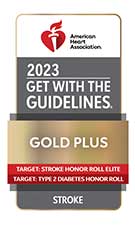 The American Heart Association is once again honoring University Health with a national Get with the Guidelines Gold Plus Award, which recognizes our commitment to providing the highest quality care for patients facing cardiovascular and stroke conditions. The award further recognizes exceptional treatment for stroke and diabetes patients by naming University Health to elite honor rolls for those conditions. Diabetes is a contributing risk factor for strokes.
In announcing the award, the AHA congratulated us for "applying the most up-to-date evidence-based treatment guidelines to improve patient care and outcomes" in the community we serve.
"Receiving this award is a reflection of our organization and team's commitment to providing quality stroke care to our patients throughout their continuum of care," said Jeanette Figueroa, coordinator for the Comprehensive Stroke Center at University Health.
"Our multidisciplinary stroke team is one of the best, and together we are able to maintain our commitment to our community. We are extremely proud of this award and the advancement of our stroke program over the last few years," Figueroa said.
To be considered for these honors, University Health must demonstrate a standard of excellent care that extends from the time team members first assess a stroke patient, through treatment, hospitalization and follow-up needs. The awards committee evaluates how quickly the medical team evaluates and treats a patient; the quality of treatment; education the patient receives about their condition; how the patient is prepared for discharge; and the care they receive after going home.
University Hospital is certified as a comprehensive stroke center, which signifies the team's ability to diagnose and care for the most complex stroke patients with the latest technology and procedures. Those capabilities lead to better outcomes and recovery.