Institute for Public Health in San Antonio
University Health is working to advance its mission to improve the health of the community by establishing a new Institute for Public Health in San Antonio.
The Institute will serve as a critical hub for University Health, assessing needs, collaborating with partners and connecting patients with targeted education, programs and community resources.
"Our new Institute for Public Health is focused on promoting health, preventing disease and prolonging life, while reducing disparities and achieving health equity," said Dr. Carol Huber, deputy chief public health and equity officer.
What Is Public Health?
Public health is the art and science of preventing disease and injury in a community, neighborhood or city.
As a leader in public health, University Health is:
Promoting healthy living and injury prevention through education and policy
Delivering preventive and primary care, including age-appropriate vaccines and well-child exams
Providing cancer screenings such as mammograms and colonoscopies
Addressing social determinants of health to improve health care access and outcomes
Responding to emergencies
10 Essential Public Health Services
There are 10 essential services that comprise the framework of public health and guide the Institute for Public Health's mission and activities. They are:
Assess and monitor population health status, factors that influence health, and community needs and assets
Investigate, diagnose and address health problems and hazards affecting the population
Communicate effectively to inform and educate people about health, factors that influence it and how to improve it
Strengthen, support and mobilize communities and partnerships to improve health
Create, champion and implement policies, plans and laws that impact health
Utilize legal and regulatory actions designed to improve and protect the public's health
Assure an effective system that enables equitable access to the individual services and care needed to be healthy
Build and support a diverse and skilled public health workforce
Improve and innovate public health functions through ongoing evaluation, research and continuous quality improvement
Build and maintain a strong organizational infrastructure for public health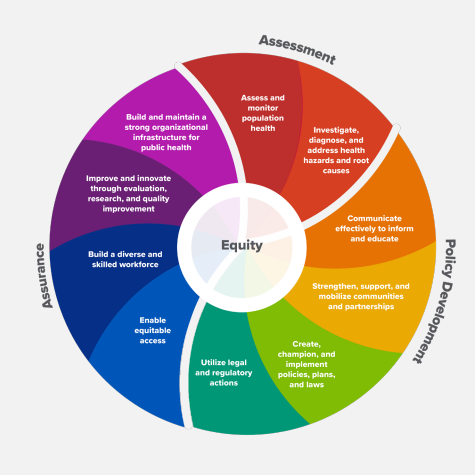 What Are Social Determinants of Health?
Social determinants are "conditions in which people are born, grow, work, live and age and the wider set of forces and systems shaping the conditions of daily life," according to the World Health Organization (WHO). These factors often have a significant impact on a person's overall health.
Examples of social determinants include food insecurity, access to safe housing and transportation, early childhood experiences, educational opportunities and income level.
University Health's Institute for Public Health
Learn more about the Institute for Public Health and the Community Health Needs Assessment and Implementation Strategy on our website.