A new study from the National Institutes of Health found that COVID-19 can live up to three hours in the air. But, how long can COVID-19 live on different surfaces that you come into contact with on a daily basis?
Novel coronavirus is highly contagious
Novel coronavirus is an airborne illness, spreading when an infected person coughs or sneezes into the air. The droplets land on nearby surfaces or they're inhaled directly by another person - making it easy for this virus to spread quickly throughout a community.
Because COVID-19 can survive for up to three hours in the air, it's very dangerous. You may think that wearing a mask or covering your nose and mouth, when sneezing, is enough to prevent the spread of coronavirus, but it's also important to be aware of the many surfaces you touch every day - that could harbor the virus.
COVID-19 has a varied life span on different surfaces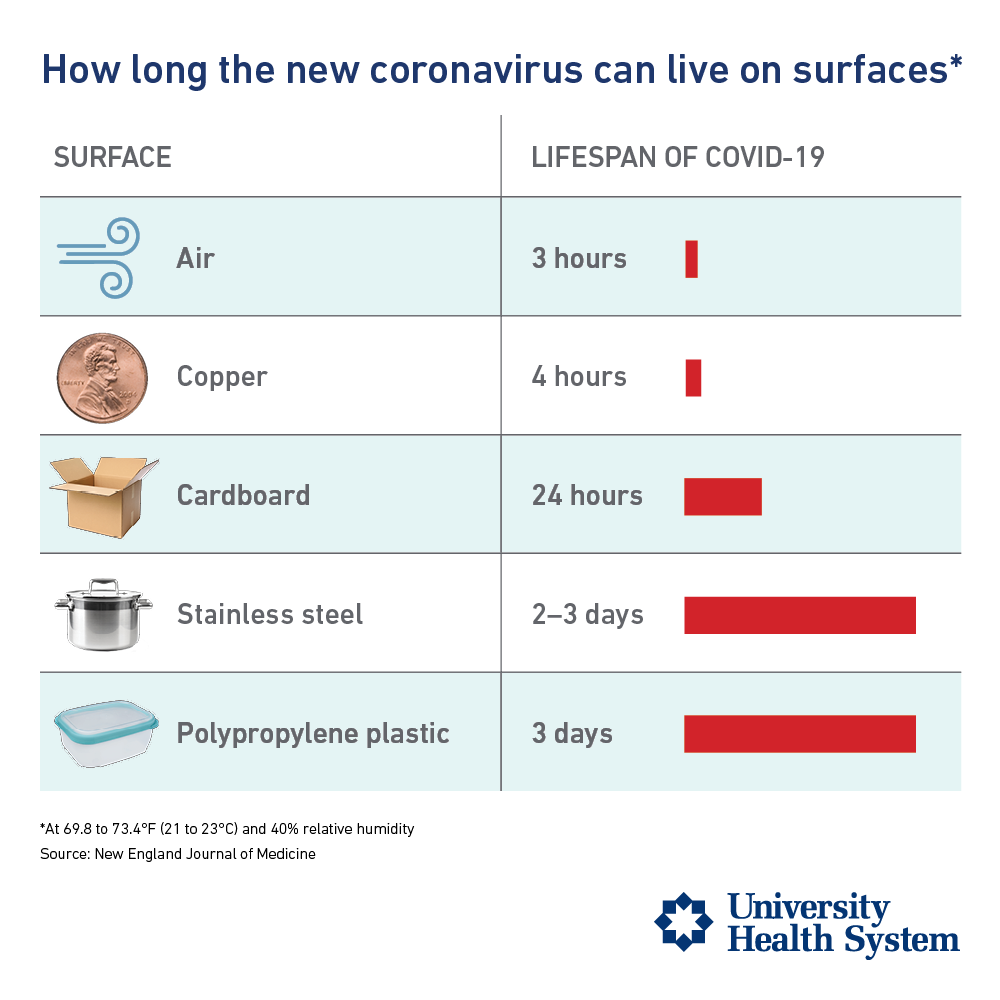 Researches from The National Institutes of Health found that COVID-19 lives the longest, about three days, on non-porous surfaces such as steel and polypropylene, which is a type of plastic used in many products including clothes, medical equipment and housewares.
On porous surfaces such as cardboard, money, hair and fabric, the coronavirus survives for a much shorter time - often just a few hours. This is because the small holes on the surfaces of these materials can trap the virus and prevent it from transferring to other surfaces or people.
COVID-19 and its surrounding temperature
Another study from the National Institutes of Health found that warmer climates may have an effect on how long the coronavirus can survive. It was found that in warmer climates, an increase in temperature could decrease the life span of the virus by almost half.
This is attributed to the fact that coronaviruses have a protective layer that shields them when they travel to or from a surface or person. In climates with warmer temperatures, this protective layer will dry out which prevents the virus from surviving as long.
It should be noted, however, that climates high in humidity with moderate temperatures and low winds all contribute to the likelihood that the coronavirus will survive longer.
Disinfect all surfaces to prevent the spread of novel coronavirus
Remember, the best way to prevent the spread of coronavirus is to practice social distancing, good hygiene – especially washing your hands often - for a minimum of 20 seconds.
It's also important to continually disinfect surfaces you come in contact with - especially surfaces in your home, car, etc. This also includes all high-touch surfaces including tables, doorknobs, light switches, desks, toilets, sinks and faucets.
To disinfect surfaces properly, use household cleaners and EPA-registered disinfectants that are specifically made for surface cleaning. Make sure to follow all product directions to ensure that you're using the cleaner correctly.
Other things you can do to disinfect surfaces properly include:
Wear gloves when cleaning to prevent the spread of the virus.
If surfaces are dirty, make sure to clean them with soap and water first before using a disinfectant.
To disinfect surfaces, use household bleach solutions, alcohol solutions with at least 70% alcohol and EPA-registered cleaners.
University Health System, in partnership with UT Health San Antonio, is a dedicated academic medical center that offers patients leading-edge treatments based on the most current research in a safe environment. For more information about the developing Coronavirus situation, visit CDC.gov or universityhealthsystem.com/COVID19.