Medical Miracles Honorees
Since 2006, the annual Medical Miracles Gala has shared astounding stories of survival. View our Medical Miracles Gala honorees who have triumphed over illness and injury.
Medical Miracles Honorees
Chaciti McMorris was 6 years old when she suffered devastating burn injuries and was rushed to the Level I Trauma Center at University Hospital in San Antonio. This video documents her inspiring journey to not only survive, but also thrive. The pediatric burn program at University Hospital was just getting started at the time, so Chaciti literally grew up alongside this program as it grew into one the nation's top pediatric burn programs.
For more than a year, the extraordinary people of University Health have been bringing their best in response to COVID-19. They are meeting this moment with dedication and compassion, and overcoming unprecedented challenges with innovation and leadership. This gala was very different. Instead of a celebration, we came together for a live virtual event to pay tribute to the extraordinary University Health team. It was an unforgettable evening for an incredibly important cause.
How do you say "thank you" to a stranger who saved your life by giving you a portion of her liver? We are honored to share the powerful story of two donors and two recipients who are now connected forever as part of the nation's first "donor swap" for living liver donation. It's a remarkable story of generosity and celebrate the human spirt at its very best. On September 25, 2020 University Health was proud to recognize Natasha Sanchez, Anna Moreno, Sarah D'Angelo and Mark Blair at our Foundation's 15th Annual – and first ever virtual – Medical Miracles Gala. Funds from this event helped establish a Living Donor Transplant Fund to support those individuals with the heart to become a living liver donor but who do not have adequate health coverage or financial resources to ensure a safe recovery from their donation operation.
On Sunday, November 5, 2017, teams from across South Texas came together – bringing their very best – on one of the very worst days for our community. We continue to be amazed by the strength and faith of the Sutherland Springs patients and families we cared for at the Level I trauma center at University Hospital. And, with our partners at Brooke Army Medical Center, we are proud to recognize the heroic efforts of everyone who responded and served with great precision, skill and compassion. At the 2019 Medical Miracles Gala we honored two courageous patients, and our community of first responders and trauma professionals.
Halfway through what would have been a normal pregnancy, Adriana Zepeda went into premature labor with her second child. She delivered little Amber at 24 weeks gestation and a birth weight of just over one pound.
To put it into context, a normal pregnancy is 40 weeks. Prematurity is considered a birth before 37 weeks. Any baby born at 25 weeks or earlier is considered extremely premature.
Amber's story is one of how academic centers such as University Health and its physician partners at UT Health San Antonio are giving hope to families such as Amber's through research, innovation and evidence-based care.
It wasn't that long ago that babies such as Amber would not have survived, said Dr. Cynthia Blanco, medical director of the Neonatal Nutrition & Bone Institute at University Health and professor of neonatology at UT Health San Antonio.
"The therapies we're testing today will probably be the standard of care in 10 years," Dr. Blanco said. "We have hope for a lot of babies because of stories like Amber's."
In fact, these extremely premature babies have a whole host of medical problems when their normal development in the womb is cut that short. Amber's heart, lungs, brain, eyes, liver and intestines all required complex treatment and multiple surgeries by a number of pediatric subspecialists.
Her mother enrolled her in three different clinical trials — one involving a newly developed ventilator, another to address her difficulty absorbing nutrients, and a third designed to improve bonding between these tiny, fragile babies and their mothers. And after 5 months and four days in the Level IV neonatal intensive care unit at University Hospital, and lots of hope, prayer and the best medical care available, Amber went home with her family.
"UT Health San Antonio is proud to support the University Health Foundation and its Medical Miracles Gala that exemplifies commitment and dedication toward helping our community," said Dr. William L. Henrich, president of UT Health San Antonio. "Through its growth and medical advancements, University Health has made a significant impact in improving health outcomes of patients and continues to make a positive, meaningful difference in the overall health of our community."
Watch her story and be inspired by Amber and her incredibly strong mother.
As a trauma surgeon, Dr. Ronald Stewart never expected to be leading a community-wide effort to build a stroke system. But in 2008, that's exactly what happened as San Antonio was the only major city in Texas without a stroke center. As chair of STRAC, the region's advisory council on emergency care, he found himself partnered with community advocate Suzanne Hildebrand to make the case - this community deserved best-in-class stroke care. At one point Dr. Stewart told a room full of doctors and hospital leaders:
"You know what? I have atrial fibrillation. I could have a stroke and need you guys someday." In 2011, he did.
Hear the rest of the story and celebrate how a community came together for Dr. Stewart, for all of us.
A mother, not ready to give up the fight.
A daughter, not ready to say goodbye.
A team, ready to do what used to be impossible.
"It was very easy to make the decision, because it was the right thing to do. That doesn't mean it wasn't the scariest thing in the world." That's how 26-year-old Miranda Bennett reflects on her decision to donate a portion of her healthy liver to save her dying mother. Her mom Tammy Miranda, who was first diagnosed with an autoimmune liver disease in 1996, didn't want her daughter, or anyone, to be a living donor. "All those years, I said 'no.' I never wanted to risk someone else's life." But in 2014, her disease had progressed to the point where the increased toxins in her blood were causing serious problems, including a loss of brain function.
She was very sick and getting sicker every day. She was also living in Hawaii. A Google search led Tammy to University Transplant Center, South Texas' only living donor liver transplantation center. And her doctor agreed it was time to transfer her care to San Antonio. She moved to Austin to live with Miranda – and hoped for a miracle. Join us at the 2016 Medical Miracles Gala to experience their remarkable story and celebrate the heroes of living donor liver donation.
Watch the video below to hear the rest of Tammy & Miranda's remarkable story!
2015 Medical Miracle Honoree, Gilbert Hernandez III
A brand new baby. A pioneering heart surgery. The rest is history.
Gilbert had no idea he was making history 22 years ago. He was just 2 days old when Dr. John Calhoon repaired his heart. It was a complicated procedure that had never been performed on such tiny baby.
"I'm not sure everybody believes it's the right thing to do," was how Dr. Calhoon described the decision. It was March of 1993, and Dr. Calhoon, serving then as chief of pediatric cardiac surgery at the UT Health San Antonio, didn't have a better alternative.
"They only gave us a 50-50 chance," recalls Gilbert's mother, Maria Hernandez. But they really didn't have a choice. "Take him home and he'll die in a day or two." His father, Gilbert Hernandez II can still hear those words.
That was then.
Now, Gilbert is 22 years old, attending college and interested in broadcasting.
Watch the video below to hear the rest of Gilbert's remarkable story!
2014 Medical Miracle Honoree, Officer Jonathan Esquivel
Two years ago, San Antonio Police Officer Jonathan Esquivel was seriously considering running a marathon. When he wasn't on the streets protecting our community or at home with his wife and two young sons, chances are you could find him at the gym or out for a run. He was 28, and in the best shape of his life.
Unfortunately, his best was no match for a pick-up truck traveling 50 miles per hour. Officer Esquivel was struck by a distracted driver while working a collision on Loop 410. The impact broke his neck, shattered his pelvis, crushed his ankle, damaged his brain and ruptured his bladder.
Instead of a long run, the endurance marathon he started that day was a challenge to survive, to remember, and to move.
Watch the video below to hear the rest of Officer Esquivel's remarkable story!
2013 Medical Miracles Honoree, Leana Mendoza
On June 28, 2012, 6-year-old Leana Mendoza and her family climbed into their truck at their Laredo home and headed out to see "the Greatest Show on Earth." At that moment, they couldn't have imagined that trip to the circus would result in Leana being airlifted to University Hospital to fight the greatest battle of her young life. It happened so quickly. They didn't even see the other car jump the curb and plow into them.
Leana's baby sister, strapped tight in her car seat, was unharmed. The injuries sustained by Leana's mother and stepfather were immediately apparent – broken bones and lacerations. Leana's injuries weren't so obvious and, in fact, went undetected for two days. When her fever hit 105 and her stomach began to swell, Leana's mom knew something was really wrong. More tests revealed severe internal damage. Within minutes, AirLIFE was flying Leana to University Hospital, where the Pediatric Trauma Team was preparing
to rush her into surgery. They knew she was critical. They knew what needed to be done to try to save her life. They also hoped this little girl would be a fighter, because they knew they couldn't do it without her.
Watch the video below to hear the rest of Leana's remarkable story!
2012 Medical Miracles Honoree, Valeria Garcia
"Mama, am I going to die?" That was the question 13-year-old Valeria Garcia asked her mother after her first CT Scan. She'd seen the look on the doctor's face giving her family the results. Valeria knew it was really bad - she'd even seen it coming. Despite being active in sports, Valeria had been noticing her stomach getting larger. She had hoped the crunches she was doing would help but, on that day in February of 2009, when the pain became so intense and unbearable, she texted her mom to come get her. They went straight to the doctor, then almost immediately to the CAT scanner at a hospital near their Brownsville home. Her whole family was together when they heard the words that would change their life: Malignant tumor.
Turns out it wasn't malignant, but it was a five-pound tumor in her ovary. Within days she was at MD Anderson in Houston where surgeons removed it along with her left ovary and fallopian tube. They told her she didn't need chemotherapy, so she went home to recover. "The worst was over," her family thought. Turns out, "the worst" was just beginning.
Watch Valeria's video to hear more of her story.
2011 Medical Miracles Honoree, Abby Jack
Our 2011 Medical Miracles Honoree is an adorable two-year-old girl who suffered a serious brain injury when she was just six months old. It was April 17, 2009 and tiny Abby Jack was buckled in her car seat and on her way to Grandma's house. Her mom, Rachel, was having severe migraines, so Grandma was going to watch Abby while she went to see a doctor. The last thing Rachel remembers was being stopped at a traffic light. She learned later that a seizure, related to those migraines, had caused her foot to hit the gas and sent her car straight into a large tree.
Abby's head injury was life-threatening, and the prognosis was not good. Rachel, who suffered serious injuries herself, and Abby's father Darrell were in shock as Abby was rushed to surgery. She spent the next three weeks in a medically-induced coma in the Pediatric Intensive Care Unit at University Hospital. Her recovery was difficult, and something an innocent baby should never have to endure. Yet she did, with remarkable strength for one so tiny. The opportunity to see Abby smile, as they counted the candles on her second birthday cake, knowing there would be many happy birthdays to come, was the best gift ever for her parents - who count their blessings everyday.
2010 Medical Miracles Honoree, Kevin King
In 2010, our Medical Miracles Honoree was Kevin King, a man who, in the spring of 2008, was rapidly losing his battle with pulmonary fibrosis and was completely reliant on a portable oxygen tank. Today, Kevin is alive and breathing easier because a generous family allowed their deceased loved one to donate a lung to a complete stranger. Kevin's story is also a testament to a team of transplant professionals who saw him through the complicated operation and the terrifying touch-and-go days that followed.
2009 Medical Miracles Honoree, Nicholas Velasquez
Our 2009 honoree was Nicholas Velasquez. Hear the story of Nicholas' miraculous survival and how this little boy proved many wrong when he stood on his own and took a first step several months after the crash. Today, Nick is back at school, and he's not just walking - but running!
2008 Medical Miracles Honoree, Larry Price
The 2008 Medical Miracles honoree was San Antonio Police Officer Larry Price. His journey back to health, after having most of his esophagus surgically removed, is inspiring. His message, to the thousands of San Antonians who may be putting themselves at risk for a fast growing and deadly cancer, is powerful and important.
We were especially thrilled to recognize Officer Price, not only for his personal victory and willingness to share his experience with others, but because of the high esteem in which we hold the entire San Antonio Police Department. University Hospital is often the place where officers are brought after being injured in the line of duty. While our dedicated emergency medical and surgical trauma teams strive to provide excellent care to every patient, it is accurate to say they are truly honored to provide service to our police officers and their families during these difficult times.
2007 Medical Miracles Honoree, Drew Rice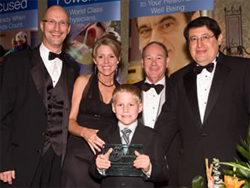 (Pictured right: Matt, Kim and Drew Rice with Irwin Zucker, UH Foundation Chairman and UH President/CEO George B. Hernández, Jr.)
When nine-year-old Drew Rice is fast asleep he probably dreams about the roar of the crowd as he walks off the mound, having just pitched his first no-hitter. Pretty typical dream for a boy his age, but what makes Drew's dream so special is the "walking" part. That's because Drew Rice only has one leg.
Drew, along with his parents, Matt and Kim Rice, were the honored guests at the 2nd Annual University Health Foundation Medical Miracles Gala on May 10, 2007 at San Antonio's Westin Riverwalk Hotel. The event raised funds to support the Foundation's Nursing Scholarship program and the Peveto Center for Pastoral Care at University Hospital.
Over the course of the evening, attendees experienced a wide array of emotions as they learned about the Rice family's battle with cancer. Many were moved to tears and deeply inspired, as Matt Rice shared what is truly an unforgettable story of courage and faith.
On April 28, 2004, six-year-old Drew was in the backyard jumping on the trampoline when he injured his knee. What Matt and Kim thought was just a minor injury turned out to be the "unthinkable." A cancer tumor had been "hiding" behind his knee. It was big - covering about two-thirds of his entire thigh. And it was bad - Ewing's Sarcoma, a very rare form of bone cancer.
Drew's difficult battle began with chemotherapy the following month. He lost 10 pounds and was down to just 39 pounds when it was time for the next step - surgery. The Rice family had heard good things about Dr. Ronald Williams in the Department of Orthopedics at The UT Health Science Center at San Antonio. He is one of the most respected orthopedic oncologists in the nation, and the only one in all of South and Central Texas.
Their first visit to Dr. Williams' office was unforgettable. "He flipped up an x-ray on a screen and, like an attorney, started building a case for amputation," Matt remembers. "I was blown away." They expected to hear about donor bones or maybe fusion of the knee, not amputation.
"It was important to teach Drew's dad that losing a limb involves a grieving process," Dr. Williams recalls. "I told him to expect Drew to get angry, but assured him that young people seem to figure it out."
"We prayed and prayed for a miracle," says Matt. In fact, the day before the operation they asked for another CAT scan, just in case they got their miracle. They didn't and Drew was admitted to University Hospital that night. "It was a real faith struggle," Matt admits. The next morning they carried him to the operating room, Drew crying the whole way. He woke up from his operation with a prosthetic in place of his leg.
"We encouraged him to get up," says Dr. Williams, "because the sooner he became mobile, the better." That is not how Drew, almost seven years old at this point, saw things. "He was scared of physical therapy," says Matt. "He'd be hitting, throwing things and screaming bloody murder. He was mad."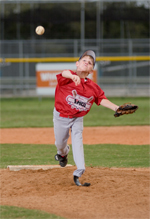 They still had a long battle ahead. "We all cried a lot," says Kim. "He would sleep with his prosthetic on. If I took it off, he'd cover his face, or put a blanket over it." They were becoming increasingly concerned about Drew's inability to cope with his new reality. "He's gonna have to look at it and touch it," they cried to Dr. Williams. "He will, when he does," was the doctor's reply. He was right.
The week of his last chemotherapy session, Drew threw the blanket down and looked at his stump. "That was huge," smiles Matt. "He was still ticked." But it was a start.
Drew finally went back to school with crutches on January 5, 2005. A few months later he asked to go watch a friend play baseball. "And we kept going back and back," remembers Matt. One day Drew had an idea. "Dad, I want to play baseball," he announced. "Why not?" thought Matt. "Absolutely," said the folks at the YMCA.
Baseball was the best medicine ever. On the baseball field, Drew says, "I'm like everyone else." He played that spring, and hasn't stopped since. He changed in other ways too.
One day the Child Life specialist at University Hospital called with a favor. She asked Drew how he'd feel about coming up to the pediatric unit to talk to a young man who had just had his leg amputated. Drew said yes. "It was a 15-year-old boy named Johnny," Matt remembers. "Drew brought him a soccer ball. He even signed it."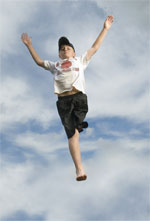 He has returned several times to visit other children. "He is an inspiration to them, and to everyone in the unit," explains Child Life Coordinator Rebecca Charlton. "It is such good therapy to help someone else," agrees Kim. The sad part of these visits is the fact that two of the children, including Johnny, have since died from their cancer. "I don't understand why Drew is OK and others are not," she adds. "I believe God has something special planned for him."
If you ask Drew what that "something special" might be - he'll likely tell you he's going to be the first Major League pitcher with a prosthetic leg. And don't put it past him. Drew has far surpassed the goals his doctors and therapists have set. He is the pitcher of his Little League team. And cheering him on are the two biggest supporters of his dreams. "I cry every time I watch him pitch," says Kim. "I am so proud and happy." Matt says he often overhears parents in the stand say, "Hey, there's something wrong with that kid's leg!" His proud response is always "No, that's my son and he doesn't have a leg."
2006 Medical Miracles Honoree, Jane Swanson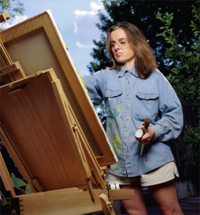 On July 23, 2003, Jane Swanson was critically injured in a tragic workplace shooting that left two other women dead. Clinging to life, Jane was flown to the trauma center at University Hospital. She remained in critical condition in the Surgical Trauma Intensive Care Unit for a month, then spent another month in the Reeves Rehabilitation Center at University Hospital.
Some of her first words, weeks into her recovery, were expressions of thanks and appreciation to all who saved her life - from the first responders at the scene, to the AirLIFE crew and University Hospital's surgical trauma team.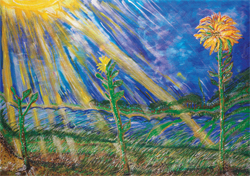 When Jane left the hospital two months after the shooting, she promised to educate the community about the importance of supporting University Hospital's Level I trauma program.
She continues to live up to that promise by sharing her inspiring story with many organizations and church congregations. On our behalf, Jane traveled to Austin during the last legislative session to address lawmakers about trauma funding.