Treating hearing loss in the first months of life is vital for development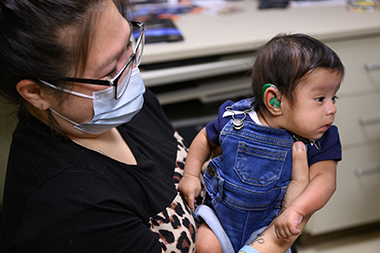 When Jeremiah was born prematurely in February he weighed just 2 pounds and 12 ounces. Because his little body wasn't fully developed, he required special care in University Hospital's Neonatal Intensive Care Unit or NICU. That's where audiologists discovered he had hearing loss that threatened to severely affect his development and the rest of his life.
Most insurance plans do not cover pricey hearing aids until babies are discharged from the NICU. Since premature children may remain in neonatal units for many months, their speech, comprehension and learning can be seriously delayed.
University Health's audiologists are now able to fit Jeremiah and other premature babies with tiny hearing aids while they are still in our neonatal unit. Jeremiah received his hearing aids near the end of his three-month NICU stay, and now returns for regular appointments so the devices can be checked and his development can be monitored.
"I was told that because he couldn't hear everything he wouldn't make the cooing sounds most babies make. The other day he cooed," his mother Alexandria Zamora said. "I was so happy."
Video, Photos and Interview Opportunities:
Please feel free to use the video, interviews and photos being provided for news stories. Here's a link to video of audiologist Jennifer Frank fitting Jeremiah with his first hearing aids. It includes Jennifer explaining what happens when hearing deficiencies aren't treated early, and Alexandria talking about her fear Jeremiah would never really hear her voice.
Here's a link to a Dropbox folder with photos. https://www.dropbox.com/sh/152rhjgnbhe4shj/AAClycoU8Lv3_YfoCqiw9upJa?dl=0
If you would like to meet in-person with our audiologists, Alexandria and Jeremiah, they will be available Monday at 2 p.m. at the University Health Medial Center Pavilion, located at 4647 Medical Drive across the street from University Hospital. Jeremiah has a hearing checkup at 3 p.m. The room is small but we may be able to arrange access if you request it. Please contact us in advance and we will arrange parking.