Our chief nurse executive among most influential in the country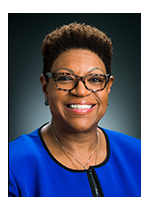 Tommye Austin, senior vice president and chief nurse executive at University Health System, is being recognized alongside some of the country's best-known healthcare figures as one of the 50 most influential clinical executives in the country.
The list published by Modern Healthcare includes Dr. Deborah Birx, the Trump administration's coronavirus response coordinator, and Dr. Anthony Fauci, director of the National Institute of Allergy and Infectious Diseases.
"I am very humbled and grateful for being nominated and selected," said Austin, who has been named to the list two years in a row. "I am blessed to be a part of the University Health System family."
Modern Health readers and its senior editors chose the honorees from a list of 150 nominees. They considered each executive's success in three areas:
Achieving financial, operational and clinical goals
Contributions to innovation and transformation in healthcare
Addressing what they called the quadruple aim – improving community health, better patient experience, lowering costs and clinician burnout
George B. Hernandez, Jr., president and chief executive officer of University Health System, said Austin is especially worthy of being included among these elite health professionals.
"Tommye Austin is the kind of leader others want to follow," said Hernandez. "She doesn't dwell on challenges, she finds solutions. She inspires our nurses to strive for excellence, and supports them when they do.
"Tommye has a way of encouraging others to reach higher and achieve more, as well. At University Health System she has elevated our nursing ranks with good planning, organization and by making this a place the best nurses want to work," Hernandez said.
Austin oversees some 2,800 nurses in the University Health System. During her three years leading the nursing program she has strengthened staffing and preparation for emergencies by recruiting additional nurses. When COVID-19 threatened, she devised a plan to quickly shift nurses to the patient-care areas where they are most needed.
Austin demonstrated her leadership and gained national attention when healthcare employees everywhere feared they would be left unprotected by a shortage of personal protective equipment, PPE, including masks, gowns and gloves.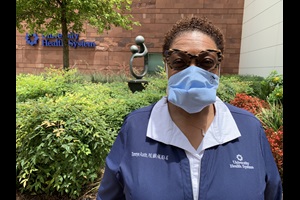 She responded when her nurses became angry and frightened because the U.S. Centers for Disease Control said they could wear bandanas and scarves while caring for COVID-19 patients if they ran out of the recommended N95 masks.
Instead of just getting angry, Austin got busy. She designed a replacement mask with materials that block more than 96% of airborne particles and will protect healthcare employees if needed. She also repurposed a sterilization process used to decontaminate surgical equipment and began using it to clean N95 masks. Now they can be worn three times instead of once, which expands the hospital's supply of masks.