9-year-old boy donating teddy bears with masks for transplant children
When 9-year old Mateo Alcorta learned children who've had organ transplants need face masks, he decided to help.
He raised around $200 in February by selling Valentines' Day baskets and used the money to buy 80 small teddy bears. Mateo then recycled cotton material his mother had for sewing projects and recruited her to teach him how to use the family sewing machine.
On Friday, Mateo and his family presented staff members from the University Health System Transplant Center with 80 fuzzy, little bears wearing child-sized masks made by Mateo. The bears will be given to children preparing for their transplant surgeries, and those who return for appointments after receiving new, life-saving organs.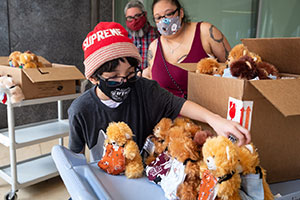 "When I heard about the coronavirus, I just wanted to help little kids in the hospital," Mateo explained simply, when asked why he had taken on this project.
Dr. Daniel Ranch, the medical director for the Transplant Center's pediatric kidney program, thanked Mateo, telling him his gift will be appreciated by children who often wear masks following their transplant surgeries to protect against infection.
The Transplant Center, located in University Hospital, is a partnership between University Health System and UT Health San Antonio. It has one of the only programs in Texas offering live organ donation for children.