When a patient's life depended on a transplant her doctor decided to be her donor
Dr. Marc Chalaby, a pulmonologist, is like many dedicated physicians. He regularly spends long hours diagnosing, counseling and treating his San Antonio patients. He became a doctor who treats breathing problems because he wants to help and heal people.
However, when one long-time patient learned the hepatitis she had conquered had destroyed her liver, Dr. Chalaby went beyond a physician's normal heroics. Serena Irons, age 68, needed a liver transplant to survive. She might not be able to wait for a deceased donor.
Without telling her, Dr. Chalaby went through testing at the University Health Transplant Institute where he learned he was a compatible donor and could give Serena part of his healthy liver. The University Health Transplant Institute is the only place in South Texas performing liver transplants from living donors.
Serena Irons is now looking forward to a much healthier life. And both she and Dr. Chalaby have become vocal advocates for saving lives through living organ donation.
Video story: https://youtu.be/y64UZSn-dsk
Video without voice and graphics for editing: https://f.io/BLKAICWk
Please feel free to post or excerpt the videotaped story for news reports. You may use the videotaped interviews with Dr. Marc Chalaby and Serena Irons. They are also available for individual interviews. We can, in addition, put you in touch with a member of our transplant team who will provide details about the benefits of living organ donation.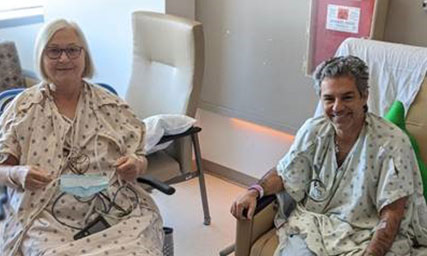 Dr. Chalaby (right) and Serena Irons (left)