James Adams earns national honor from Modern Healthcare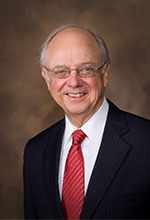 James Adams, chairman of the Bexar County Hospital District Board of Managers, is one of just 12 health care leaders in the country named to Modern Healthcare's 2023 class of Excellence in Governance awards.
Modern Healthcare is one of the health care industry's leading sources of business and policy news, and the Excellence in Governance award recognizes influential individuals who serve on boards for health care organizations that foster advances in culture, mission and performance.
Adams was appointed to the Board of Managers in 1998 by the Bexar County Commissioners Court and has been chair since 2012. His support and leadership have been crucial during this time of historic expansion and transformation for University Health.
"Seismic change is underway within healthcare organizations, and it is the job of directors to steer these major employers in a direction that benefits both the bottom line and patients," said Mary Ellen Podmolik, editor-in-chief of Modern Healthcare. "The 12 directors selected for our Excellence in Governance awards exemplify the commitment, vision and tenacity needed to address challenges head-on and better meet community needs."
This is certainly the case for Adams. For more than two decades, he has worked closely with his colleagues on the Board of Managers and with the University Health executive team to advance the mission of University Health by expanding access to care, improving efficiencies and operational performance, and building a culture of compassion and servant leadership.
Former Bexar County Judge Nelson Wolff submitted a letter endorsing Adams for this prestigious recognition, writing, "His extensive leadership experience and business acumen, combined with his dedication to, and genuine care for, the people of this community have served us well over all of these decades. His steady hand leading this Board has contributed in countless ways to the growth and success of University Health. Personally and professionally, I am deeply grateful that he has continued to agree to serve in this unpaid, time-consuming and sometimes stressful position." In so many ways, Adams has been the leader our board has needed in this time of considerable change, sky-rocketing costs and funding uncertainties for our industry.
"The long-term vision and steady hand of James Adams has been the defining element in University Health's growth and commitment to our mission, vision and values in serving the people of Bexar County," University Health CEO George B. Hernández Jr. said. "His experience, and his understanding of the needs and structure of a large, complex organization, has enabled University Health to become the sophisticated and trusted institution that it is today."