University Health signs an agreement with Texas A&M that paves the way for expanded health services in Bexar County and South Texas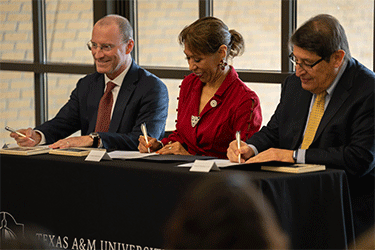 George B. Hernández, Jr., president and CEO of University Health, joined executives from Texas A&M University-San Antonio (A&M-SA) and Texas A&M University Health Science Center (Texas A&M Health) in signing an agreement Thursday that creates a foundation for expanding health services and health care training in Bexar County and South Texas.
The formal affiliation follows University Health's purchase of 68 acres at the west entry to A&M-SA's campus where the publicly-owned health system will locate the University Health Institute of Public Health in the near future and build a 256-bed hospital by 2027. Bexar County commissioners have allocated $30 million in federal American Rescue Plan Act money for the public health institute. The Texas A&M System Board of Regents approved funding to build a $45 million College of Education and Public Health facility at A&M-SA.
The partners envision a collaboration that will accelerate the training of health care professionals, expand medical research and provide needed care to underserved southern Bexar County residents as well as those in South Texas.
"This is going to be a game-changer for the community," Hernández said during the formal signing ceremony at the Texas A&M San Antonio campus.
"This agreement marks a profound step forward in growing health care professions for our community." Today's agreement formalizes the understanding that these three entities have a natural partnership that will improve access to care and also provide more health education pipelines, ultimately improving health care for residents of Bexar County and South Texas," Hernández said.
"When it comes down to it, collaborations are important. University Health needs well- trained health care professionals. Texas A&M Health Science Center and Texas A&M University-San Antonio create them. This agreement formally recognizes that and binds us, helping us each to better accomplish our shared missions of serving San Antonio," said Chancellor John Sharp, chief executive for the Texas A&M University System.
"This partnership amplifies our collective efforts to address health inequities in South Bexar County and significantly enhances A&M-San Antonio's ability to intentionally educate the Latino/a community for tomorrow's health professionals for our region and state," said Dr. Cynthia Teniente-Matson, president of Texas A&M-San Antonio, who signed the agreement along with Hernández and Jon Mogford, PhD, chief operating officer and senior vice president of Texas A&M Health.
"By taking direct interventions to improve population health and address the needs of our growing and diverse populations, we will be able to decrease health disparities for the common good," Mogford said.
Texas A&M said the collaboration will enable their institutions to grow in significant ways:
Expand undergraduate, graduate and professional health-related medical education and clinical programs with Texas A&M Health
Grow A&M-SA enrollment in health science related program offerings such as community health and rural health degree offerings, healthcare administration, behavioral health programs, health science and biomedical degrees
Create a new Public Health unit at A&M-SA for research
Support the development of medical, clinical and non-clinical workforce to serve the community and Latino/a leaders in health-related fields
Promote a positive patient experience, compassionate patient care, excellence in education, public health promotion and intervention, and outstanding health outcomes
A&M-San Antonio will also expand its collaboration with the ASPIRE network of seven ISDs to educate and train future professionals in the fields of community health, environmental health and pre-clinical studies, building a pipeline to create a diverse and inclusive workforce.
Among the many benefits of University Health's community hospital near A&M-San Antonio is that patients from the area will receive routine inpatient services, such as low-risk births and hip replacements, without having to travel to University Hospital located in the Medical Center.