A new bird is in the South Texas skies
University Health has partnered with Apollo MedFlight to bring an important new lifesaving resource to South Texas. SkyCare, a dedicated flying intensive care unit, will provide 24/7 air medical transport for high-risk pregnant women, newborns and children with complex medical conditions or injuries who need a higher level of care.
As the academic medical center for South Texas, specialists at University Hospital routinely accept patient transfers from area hospitals. Sometimes those patients can travel by ambulance. However, when they need to get to that higher level of care rapidly, a helicopter flight can be the difference between life and death.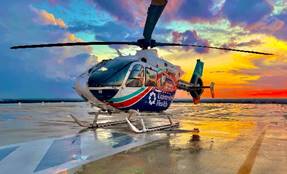 Moving forward, when the decision is made to transport a critically ill or injured woman, infant or child from another South Texas hospital, one of University Health's three highly skilled transport teams – maternity, pediatrics and neonatal care – will leave from University Hospital aboard SkyCare to pick up the patient and ensure safe care back to University Health's new Women's & Children's Hospital.
SkyCare is fully equipped with intensive care capabilities and these specialized teams are specially trained to stabilize patients and provide inflight care. SkyCare is a dedicated service, meaning it will not be diverted for other types of emergency transport needs.
"SkyCare will help us be good stewards of our resources," said Christopher Williams, University Health's director of Pediatric Transport. "A helicopter dedicated to our hospital will offer quicker response times when women and children need us the most."
Today, University Hospital is one of 32 Level IV Maternity Centers in the state of Texas and one of 20 Texas Level IV Neonatal Intensive Care Units. Those units and specialized teams will make the move into the new University Health Women's & Children's Hospital when it opens next month.
"Adding SkyCare to the University Health team is another specialized resource we are employing to ensure women and children in Bexar County and across the region receive the care they need when they need it," Williams said.
Our region is growing rapidly. The new hospital and dedicated SkyCare helicopter are two of the ways University Health is expanding to meet the specialized medical needs of women and children from across South Texas.
Media Note: Interviews and tours of the SkyCare helicopter are available. Contact us to schedule your visit. Learn more about the Women's & Children's Hospital at SayHello.net.