Trauma-informed care (TIC) is a unique approach to how we interact with people who have experienced trauma, whether physical, emotional or psychological. Trauma-informed care is about being considerate, empathetic and thoughtful in the way we care for others.
Trauma-informed care is taught in most health care environments, but the general public is encouraged to learn more about it, too. Understanding adverse childhood experiences (ACEs) and their impact on people's lives can help everyone become more compassionate and understanding in their everyday interactions.
Adverse childhood experiences
Examples of adverse childhood experiences include:
Physical, emotional or sexual abuse
Neglect
Growing up around domestic violence
Parents getting divorced
One or both parents are incarcerated
Substance abuse in the home
The South Texas Trauma-Informed Consortium advocates for children who have experienced ACEs because these experiences negatively affect their health later in life. It is especially important for people who work with children, like teachers and coaches, to be trauma-informed. Sometimes when children act out or are difficult to manage, it is because they have experienced trauma at home.
According to the Trauma-Informed Care Implementation Resource Center, "The more an individual is exposed to a variety of stressful and potentially traumatic experiences, the greater the risk for chronic health conditions and health-risk behaviors later in life." This includes depression, heart disease, substance use disorder and suicide.
Being trauma-informed means understanding that trauma has a major impact on our health and well-being. There are specific ways to respond to people who experienced ACEs to help them on their healing journey, illustrated below.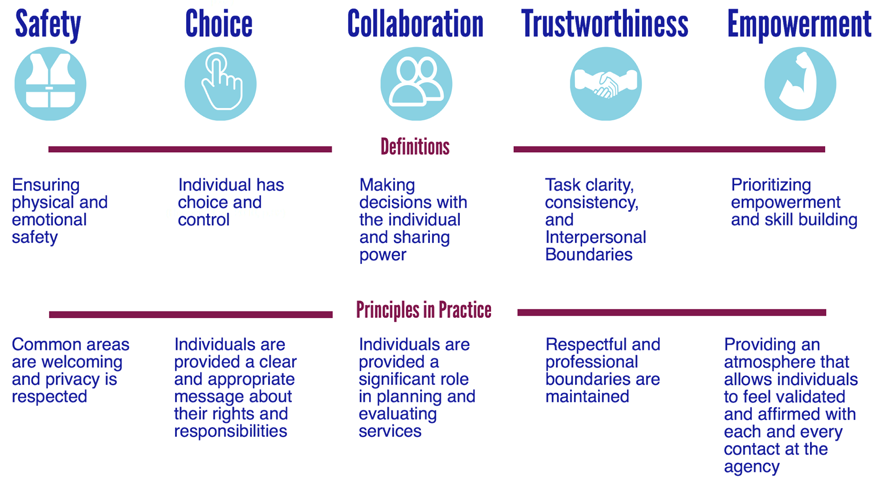 Safety encompasses physical and emotional safety of all individuals in the organization. Physical safety involves thinking about security and the aesthetics of the building itself (appearance, lighting, accessibility, etc.) and the effect those may have on individuals.

You can practice emotional safety by paying attention to signs of discomfort, recognizing these signs in a trauma-informed way, and checking in. You should also ensure that your interactions are welcoming, respectful and engaging (Harris & Fallot, 2001).


Choice involves deliberately considering how much of a voice all individuals have throughout their experience in the organization. It includes providing everyone clear and appropriate messages about their rights and responsibilities.


Collaboration is the creation of an environment of doing with rather than doing to/for someone. Collaboration gives everyone a significant role in planning and evaluating their care/services/job, eliciting feedback from all individuals to inform system-wide administration and changes and conveying the message that individuals are the experts in their own lives (Harris & Fallot, 2001).


Trustworthiness involves providing clear information about what will be done, by whom, when, why and under what circumstances. It also means maintaining respectful and professional boundaries, prioritizing privacy and confidentiality, and ensuring interactions and rules are consistent with an emphasis placed on follow-through (Harris & Fallot, 2001).


Empowerment pertains to recognizing and building on individual strengths, communicating a realistic sense of hope for the future and fostering an atmosphere that allows everyone in the organization to feel validated and affirmed during each and every contact (Harris & Fallot, 2001).
Applying trauma-informed care principles to your organization
If you work in an educational, sports or recreational environment for children, you can apply the five principles of trauma-informed care to your organization. Creating a welcoming, warm space for traumatized children will help them open up about their experiences and begin healing.
Get certified in trauma-informed care
If you are interested in becoming trauma-informed, you can sign up for classes through University Health. Our Institute for Trauma-Informed Care hosts trainings for individuals or organizations to start their path to certification. Register for a free training session.
References
Harris, M., & Fallot, R. D. (Eds.). (2001). Using trauma theory to design service systems. New directions for mental health services. San Francisco, CA: Jossey-Bass.
What is Trauma-Informed Care? - University at Buffalo School of Social Work - University at Buffalo