Celebrating the 4th of July with a huge family cookout or neighborhood block party is one of the highlights of summer. Learn how to celebrate safely to avoid a trip to the emergency room.
Fireworks-related injuries spike during the summer months, especially between mid-June and mid-July. According to the U.S. Consumer Product Safety Commission, more than 10,000 people were treated in emergency rooms for fireworks-related injuries in 2022. And while it is rare, 11 people died from fireworks-related injuries last year.
Alternatives to Fireworks and Sparklers
Instead of fireworks, firecrackers and sparklers, consider other ways of showing your patriotic cheer: Blow soap bubbles, spray silly string or toss cascarones, water balloons or streamers.
If you have purchased your own fireworks, please take precautions when using them at home. Children can be especially vulnerable to fireworks-related injuries because most parents do not consider the safety risks associated with seemingly harmless fireworks, like sparklers. The National Safety Council recommends swapping sparklers for glow sticks and colored streamers, especially around young children.
"Sparklers, which are often considered safe for small children, can burn up to temperatures of 3,000 degrees Fahrenheit, the same heat as from a blow torch," said Dr. Lilian Liao, pediatric trauma and burn director at University Hospital. "They can not only cause serious injuries to kids, but can also be a fire hazard."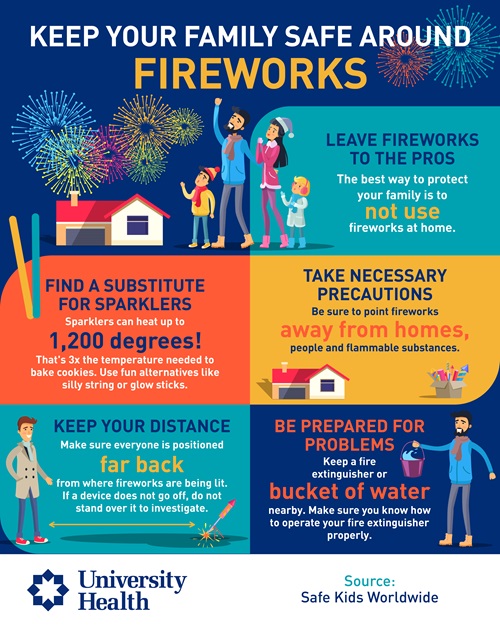 Firework Safety Tips
If you choose to use fireworks this week, here are some important safety tips to remember:
A responsible adult should supervise children at all times.
Never mix alcohol and fireworks. Save that drink for later.
Always have a bucket of water and water hose nearby.
Use fireworks in an outdoor area away from buildings.
Light fireworks one at a time, then move back quickly.
Never carry fireworks in a pocket or shoot them off in metal or glass containers.
After fireworks complete their burning, douse the spent device with plenty of water from a bucket or hose before discarding it to prevent a trash fire.
Never place any part of your body directly over a fireworks device when lighting the fuse. Back up to a safe distance immediately after lighting fireworks.
Never try to re-light or pick up fireworks that have not ignited fully.
Never point or throw fireworks at another person.
And remember — if someone does sustain a firework-related injury or burn it's important to seek medical attention as quickly as possible.
Emergency Care at University Health
Learn more about emergency care for adults and children at University Health in San Antonio.