Welcome from Our President/CEO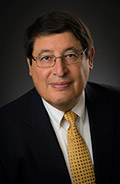 Thank you for your interest in University Health. I hope you enjoy learning about the work our extraordinary team is doing to fulfill our unique mission, and how these dedicated professionals bring the best of themselves to work each day to deliver outstanding care for our patients with compassion and respect.
If you are reading this page because you are interested in coming to work for University Health or considering your options for medical residency or fellowship, please know this is a special place. It's a place where the best and brightest in their fields want to come because of our specialized programs, latest technologies and our unwavering commitment to continual learning, innovation and discovery. Our people are unquestionably our greatest asset. They are also held to extremely high standards for quality, customer service, integrity and kindness. It is not uncommon for employees to retire from University Health following careers that spanned many decades. This is a place with deep roots in this community, and a place where employees feel part of a family.
If you are on this website because you are looking for a physician or health organization to care for you or a loved one, we know these are important decisions that should be made with great care. I encourage you to take some time to review this website, and don't hesitate to contact us if you have questions or would like to speak to someone. You can also hear directly from some of our patients who've shared their stories because they have experienced life-saving care and compassion at University Health, and who are now our best advocates.
This is an exciting time at University Health. We are in the midst of building a new 12-story Women's and Children's Hospital and look forward to its opening in 2023. We have also implemented the Epic Electronic Health Records system. This may not sound as exciting as a new hospital, but Epic has truly transformed and streamlined our entire operation. It has also empowered our patients, as their personal health information is now at their fingertips, and on their smartphones, with Epic's MyChart. They can message their doctors, attend e-visits, look at test results and doctor notes, schedule appointments, and be more involved in managing their health. This is truly the future of health care.
In 2020, University Health became the first health system in South Texas to be designated as a Magnet by the American Nurses Credentialing Center (ANCC) for a third time. We are now among an elite group of healthcare institutions that have earned this designation for more than 10 straight years. Magnet is referred to as the "gold standard" in measuring the quality of care that health care consumers can expect to receive.
As an academic medical center, we have a long-standing affiliation with the UT Health San Antonio School of Medicine. We are training the next generation of health care providers, and leading the way to develop tomorrow's best practices today through research and discovery. We are the only locally owned and operated health system in San Antonio and Bexar County and extraordinarily proud of the work this organization has done over more than 100 years to improve the health of our community.
I am honored to serve with, and work alongside, the more than 9,000 dedicated University Health professionals who bring their best to serve and lead each day.
Thank you again. I wish you good health and happiness,
George B. Hernández, Jr., JD
President and Chief Executive Officer